E.V.Y.T Disp. 460 Leg. 8866 inscribed as Non-Conventional and Adventure Tourism Operator Nº Resol. 492/96, is the Malargue's largest organization of Receptive Tourism, Mendoza Province, Argentina..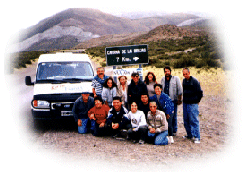 has professional guides team, who are authorized to guide in every provincial natural reserves, and touristic or scientific places that are of interest: Las Brujas Cavern (Witches' Cave), Llancanelo Lagoon, Payunia Volcanic Reserve, among others. All the excursions and expeditions are made in a four wheel drive car: Land Rover Defender or Ford Transit equipped with radio and all the documentation.
Malargue is located at the southwest of Mendoza Province, Argentine (Los Andes range of mountains) and offer so many ecological tourism options: The Las Brujas Cavern, one of his wonderful geological places, is possible to visit any moment and any time of the year. In his rooms, the stalactites and stalagmites acquire different shapes, dimensions and colors, where the years' work shows curious and unknown figures.
The Llancanelo Lagoon, a virgin and natural environment of great ecological value, recently incorporated to the Ramsar Convention as a one of world greatest humid place
The Payunia Reserve (volcanic zone) at the south departmament, a desert and alien scenery, where the power of wide spread lava, originate basaltic formations, which conform a moon scenery.

arrange horseback-riding tours and expeditions in Los Andes mountains to visit the natural reserves, combined with mountain activities: trekking, climbing, survival and bowing among others.
All the activities are performed in Malargue, Province of Mendoza, Argentine, which geological features makes Malargue departament suitable to practice adventure activities
We organize expeditions to visit:
Caverns

Natural Reserves

Thermal Springs

Wonderful places

In winter: the snow and ski: You can stay in Malargue and ski in Las Lenas. (It's only 70 km. far away from Malargue) and…

Malargue has several hotels, huts, camping for all tastes.
Although we choose several and different activities: the purpose is always the same: Enjoy the nature, close together.

has professional guides who agree on the same obsession: The care and respect of the environment.
---
Visitas a esta página desde el 28/11/2014

Ir al inicio
---
This site obtained

's certificate, for fulfilling with quality excellent standarts of quality, contents, design, originality and clarity.