TOURIST RESORT FOR SALE IN ARGENTINA, MENDOZA, MALARGUE -
CUESTA DEL CHIHUIDO -
CASCADAS MANQUIMALAL - Type Camp
Photo Gallery -

Spanish Version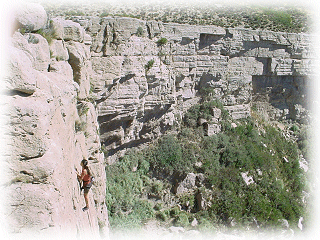 A must-see if you are looking for eco-tourism and outdoors adventures business for sale in Malargue, Mendoza, Argentina – A great opportunity
Location: Attractive location, Manqui-malal is a tourism destination area in Los Andes mountain range, in the 40 Route, on the way to Southern Patagonia and to Pehuenche International Border (Chile). It is only 40 kms away from Las Brujas Cavern and nearest town (30 minutes from Malargue town)
Area and Resort Features: The area is 20 ha (5 acres of land) and its ground has a variety of fossils from Jurassic Mesozoic (ammonites and petrified twisted shells).
Cuesta del Chihuido is one of the most important mountain climbing area of Mendoza Province, so it is suitable for mountaineering activities: More than 500 mts of hillside which it is more than 40 mts high !!
Tree and Grass Planting: More than 400 planted tree and more than 2000 mts pipelines buried under the ground for irrigation and water supply
There is an small camping area provided with drinkable water taps and barbecues
Tyrolese: it is 30 mts large
Lanes and bridge for trekking
Wire Fence
Streams which form 2 waterfalls (40 mts high) that beautify the landscape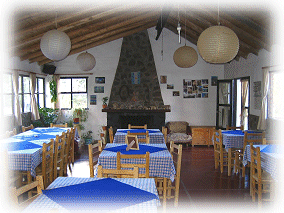 Business: The tourist resort is working at the present time (I has been working for 6 years). Business is seasonal and the resort runs at near capacity all summer with very little advertising needed. In summer time has high traffic flow and well-known as a popular stop by tourist. Most of the clients are tourists who visit Las Brujas Cavern, Payunia Volcanoes and Llancanelo lagoon ( Province Natural Parks). These parks are visited by more than 10000 tourist per year.
The tourist resort offers a restaurant, accommodation in refuge (cottages), campsite, and mountaineering activities (climbing, rappel, Tyrolese, horse-ridings and several trekks).
Buildings (Lodge) and Equipments: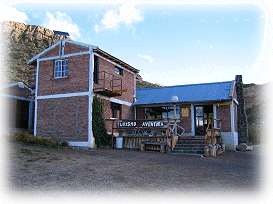 Restaurant: 11 x 6 mts with seating for 50 persons, with a fireplace and salamander (heat)
Kitchen: 4 x 5 mts with industrial cooker and stove (gas), sink provided with hot and cold drinkable water, 2 doors-refrigerator. There is a gas zeppelin tube, which can contain 2000 liters gas, for gas supply
Bathrooms: It has 4 bathrooms with individual showers for men and women
A room in the 2nd floor: 4 x 5 mts for personal use (residence)
Another kitchen: with industrial cooker and stove, grill, 2 barbecues, a thermo tank for 250 liters, a sink provided with hot and cold drinkable water.
Mountain refuges (cottages) with beds:
2 refuges for 2-3 persons, 3 refuges for 4-5 persons (with a bathroom). They are illuminated by solar energy (solar panels)
A deposit (under the ground) for drinkable water that rise in the resort
5 solar panels for energy supply to the restaurants, kitchens, bathrooms and refuges
See the Tourist Rural Resort "Manqui-malal" in Cuesta del Chihuido Photos Gallery
If you are interested in this resort, contact us at scara

karentravel.com.ar
Volver al inicio
---