Malargue : Geographical location - Distances from Malargue - Climate - How to get Malargue - Flora - Fauna - Grounds - Economics - Pierre Auger Observatory - Conventions and Expositions Center "Thesaurus"
This page web tells about Malargue' s departament geographical caracteristics. You may know its touristic attractives like: Conventions and Expositions Center Thesaurus or Cosmics Ray Observatory Pierre Auger and more, visiting City Tour.
But first you should know how to get Malargue (spanish version)
This is a Malargue map, very useful to locate lodgings, our travel agency an others intersting places.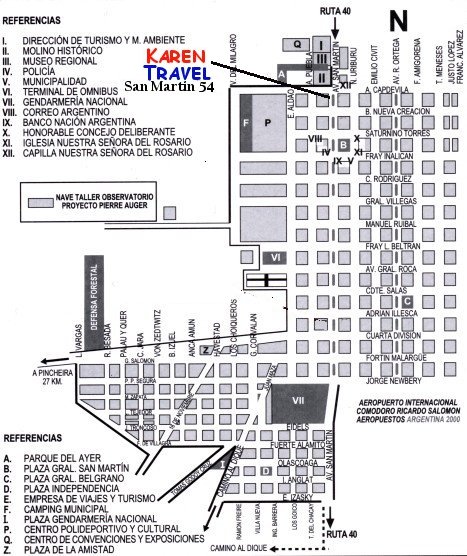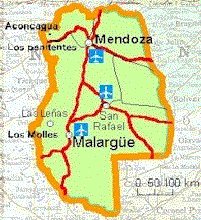 Malargue is situated in the south-east angle of Mendoza province. Its has a border with: San Rafael departament (north), province of Neuquen (south), San Rafael Departament and province of La Pampa (east), and the Republic of Chile (west). It's the largest departament of Mendoza province. (41.317 km2). Its height is 1402 mts (sea level)...
Routes to Malargue
National Route 40: this route goes through Argentina from north to south and our departament. In Malargue city this route become street, called Avda. San Martín. This route connects Malargue with Neuquen province (southern border) and with San Juan province (northern border). This route surface is tarmac.
National Route 224: From Route 40 (In Bardas Blancas village) to Paso Internacional Pehuenche (Chile's boundary cross) where it connect chilean route, which goes to Talca City (Maule region). At this time is just a consolidated road (without tarmac).
Provincial route 222: From route 40, to Los Molles Valley and Las Lenas Valley. It connects a beautiful touristic tour of three valleys (Los Molles, Las Lenas y Valle Hermoso). This route surface is completely tarmac..
Provincial route 226: this route starts in Las Loicas village. It cross Los Andes mountains from north to south. (from Las Loicas village to El Azufre's thermal springs). It's just a consolidated road (without tarmac). In Las Loicas is located the Argentine customs officer . The way to Chile is called Paso Pehuenche.

Provincial route 221: This route goes to El Manzano village and El Alambrado village, connecting Ranquil Norte in national route 40. It's a consolidated road. (without tarmac).
Provincial Route 180: It goes through Malargue from north to south., It starts in El Nihuil (San Rafael departament) and ends in Colorado river (Pata Mora county, Malargue departament. It's almost a consolidated road. (without tarmac).
Provincial route 186: It connects Malargue with Agua Escondida (going through Llancanelo lagoon in the northern side of La Payunia reserve). It's a consolidated road.

Volver al inicio
| | | | | | |
| --- | --- | --- | --- | --- | --- |
| 687 km. | Neuquen (ruta 40) | 2.182 km. | C. Rivadavia | 1.070 km. | Bahía Blanca |
| 830 km. | Neuquen (S.Isabel) | 2.883 km. | Río Gallegos (S.C.) | 1.419 km. | Sgo. Del Estero |
| 203 km. | Barrancas | 3.449 km. | Ushuaia (T.del F.) | 560 km. | San Juan |
| 243 km. | Buta Ranquil | 657 km. | Santa Rosa (L.P.) | 917 km. | La Rioja |
| 330 km. | Chos Malal | 368 km. | Santa Isabel | 1.038 km. | S.F.del V. de Catamarca |
| 401 km. | Churriaca | 422 km. | Mendoza | 1.030 km. | S.M.de Tucuman |
| 512 km. | Zapala | 186 km. | San Rafael | 2.610 km. | San S. de Jujuy |
| 685 km | La Rinconada | 639 km. | San Luis (ruta 7) | 2.511 km. | Salta |
| 714 km. | J. De Los Andes. | 465 km. | San Luis (MonteC) | 1.800 km. | Corrientes |
| 751 km. | S.M.de Los Andes | 705 km. | Villa Mercedes | 2.144 km. | Posadas |
| 866 km. | Villa La Angostura | 1.177 km. | Córdoba (ruta 7) | 1.800 km. | Resistencia |
| 1.149 km. | Viedma (R.Negro) | 1.003 km. | Córdoba (M.C.) | 1.951 km. | Formosa |
| 951 km. | S.C. de Bariloche | 1.129 km. | Río Cuarto | 1.100 km. | Rosario |
| 1.082 km. | El Bolsón | 1.308 km. | Capital Federal | 1.300 km. | Paraná |
| 1.842 km. | Rawson | 1.376 km. | La Plata | 1.300 km. | Santa Fé |
| 1.221 km. | Esquel | 1.600 km. | Mar. del Plata | | |

Volver al inicio
Malargue's climate is mild, cold and dry. The damp wind that comes from Pacific Ocean, collide with Los Andes' range of mountains and cannot goes through. Therefore in winter or summer time the climate is dry. The climate of summer time is changeable: warm, nippy and cold. There are thermal variation all day as much as all year in Malargue due to the influence of his ragged area. The rains are little, almost 200 mm. per year in the plain. Winter times are cold, with snows which increase considerably in the west side (Los Andes' range of mountains),: 800 mm. per year. There are North-westerly winds from 50 km./h to 110 km/h.
| | | |
| --- | --- | --- |
| Average weather | Summer | 21,3º C. Anual |
| Average weather | Winter | 2,6º C. Anual |
| Cloudiness | | 3,0 % |

Volver al inicio
Malargue's departament flora is bushy, stumpy with hard wood as Jarilla, algarrobo, montenegro, chacay, molle, colimamil, cuyuguay, crucero, romerillo, chilca, vidriera, coirón, chirriadera, and so on. According to the area characteristics, there are no trees in his natural vegetation, only those ones planted by people. Among them predominate: popular (álamo) and very little conifer.
Malargue has two important faunistics reserves: Payunia and Llancanelo. In Payunia is pointed out: guanacos, choiques, red wolfs (zorros colorados), piches, chinchillas, pumas, gatos pajareros, etc. In Llancanelo is found more than 100 different species of bird, pointing out the following ones: flamingos, black sneck swam (cisnes de cuello negro), coscoroas swam, macaes peladas, garzas, ducks, teros reales, garzas brujas, peuquenes, gallaretas, chorlos, etc.

Volver al inicio
Malargue's ground is, in general, sandy, with thick sand. Other sand are thin like clay.
Saline grounds: There are some areas which has salinity, as Llancanelo lagoon, Salitral de los Chilenos y Salitral de Ranquil-co, to the south-east.
Clayey Grounds: The ground is dry, without growing, is located in Mechenquil and el Manzano areas. The oasis of Malargue belongs to the Depresión de los Huarpes. Its a populared area amd suitable for agricultural activities.
Volcanic grounds: Payunia has grounds covered up by little pieces of coal. The volcanic stones (basalt and ashes) give an special dark color to the hillocks
Oasis grounds: It's a suitable ground for cultivation. It's situated between Malargue city and el Chacay. It's called "oasis malargüino" (Malarguino oasis)
Cattle: Malargue is the principal raiser of goats in Mendoza and Argentina. Malargue also produce ewes and cow.
Agriculture: The agricultural activities of Malargue is developed in the oasis: El Chacay, Malargue and las Chacras. In the valleys, sorrounded by range of mountain, where there are no rivers, exist grounds, which are suitable for cultivation. Malargue departament is the Mendoza biggest producer of potatoes seeds. These seeds are very high quality. Malargue provides potatoes' seeds to Mendoza, Cordoba and South side of Buenos Aires.
Mining: Malargue is a mining departament. Malargue develops a very important mining activities for Mendoza and Argentina. It explores and produces: plaster , fluoruro, manganese, asphaltum, and mineral oil

Volver al inicio
---