[ Payunia Volcanoes ] [ Llancanelo Lake ] [ Las Brujas Cavern ] [ Thermal Springs ] [ Los Andes Valleys ] [ Malargue town ]
Malargue offers an excellent option for adventure and ecological tourism in Argentina. It has a range of natural reserves: Las Brujas Cavern (Witches' Cave), Laguna Llancanelo (Llancanelo lagoon) and Volcanes de Payunia (Payunia's volcanoes.
The Las Brujas cavern, with its stalactites and stalagmites of varied shapes, a unique cavern in South America. Can be visited in any time of the year.
Llancanelo Lagoon is in Malargue, Mendoza, Argentina, which has a variety of birds and fauna like: swans, flamingos, ducks among others.
In Payunia reserve, volcanic area, the scenery is unusual and has archaeological curiosities like cave paintings.
You can visit geomorphologic phenomena like: Pozo de las Animas (Souls'wells), Laguna Niña Encantada (Enchanted girl's lagoon) and volcanoes Payun and Peteroa.
Besides being the most extensive and youngest department of Mendoza, Malargue has many rivers. Its mountain range's valleys, summits and plains show a variety of natural resources of matchless beauty. Malargue has also three important thermals springs with therapeutic properties: Los Molles, Cajón Grande, El Azufre.
You can leave your stressful life behind and explore Los Andes Mountains, enjoying a horseback riding tour in Los Andes !!!
For skiing lovers: Las Lenas ' valley international ski center is about 70 kms far from Malargue. (You can ski in Las Lenas with 50 % off in ski lifts, see more information)
Besides offering a variety of natural scenery (volcanoes, high mountains, glaciers, streams, rivers and lagoons ans so many basins), Malargue offer fishing and water sports.
Malargue city is a very interesting place to visit. It has an Exposition and Convention Center "Thesaurus", worth seeing. Besides, Malargue has been selected for The Pierre Auger project as a southern point of ray cosmic international scientific project.
This variety of elements probably makes Malargue a place involved in halo of mysteries and legends, becoming a most attractive and touristic department of South of Mendoza, positioning it through the ski center Las Lenas, Exposition and Convention Center "Thesaurus" and Pierre Auger Observatory, in an international touristic place.
We invite you to know Malargue's tours: (see the excursions in english)
City Tour (version in spanish)
A visit to Malargue city: comercial center, parks, squares, museum, convention and exposition center, Pierre Auger project and more...

Las Brujas Cavern (Witches Cave) A visit to wonderful underground world: Las Brujas Cavern: full of stalactites and stalagmites, petrified forest, fossils in Manquimalal, and Malal-hue fort (history)
Consult our excursion: To the wonderful underground world

Valleys and legends: the most picturesque scenery of Los Andes' ranges of mountains: Valle Hermoso (The beautiful valley), Valle Las Lenas (Las Lenas Valley), Valle Los Molles (Los Molles valley), Pozo de las Ánimas (Souls' wells), Laguna de la Niña Encantada (Enchanted girl's lagoon).
Consult our excursion: To Los Andes' valleys.

For photographic lovers, who enjoy looking at birds: this tour include an important fauna reserve with a variety of swans, gallaretas, flamingos, garzas, ducks, teros among others.
Consult our excursion: To the kingdom of birds.

Dormant volcanoes, streams of lava, slags, indigenous flora and fauna, cave paintings, inhospitable scenery, very interesting to visit ...
Consult our excursion: To the Payunia's volcanoes

Sulphurous thermal waters with excellent therapeutic properties, all to discover yourself...

fishing of salmon and sweet water's pejerrey among others...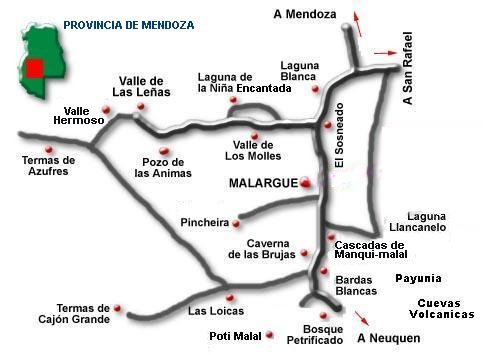 Malargue receive 35.000 visitors per year. The oil activity has been reduced in last years.

Ir al inicio
---