To the Wonderful Underground World - Kingdom of Birds -
To Los Andes' Valleys - To The Payunia's Volcanoes - To Atuel Canon

Las Brujas Cavern -

Bardas Blancas -

Petrified Forest-

Waterfalls and Chihuido fossils -

Malal-Hue Fort
A visit to wonderful underground world: Las Brujas Cavern (Witches' cavern): full of stalactites and stalagmites, fossils in Manqui-malal and Malal-hue fort.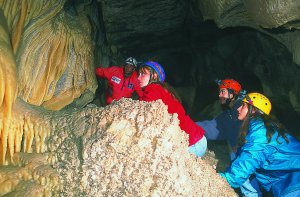 In the morning we leave from Malargue city/ Las Lenas ski center to the Las Brujas cavern (It is 1 hour-drive from Malargue). We get inside the cavern and go through its rooms. You will be amazed for 2 hours: In his rooms, the stalactites and stalagmites acquire different shapes, dimensions and colors, where the years' work shows curious and unknown figures
Then we will visit the Manqui-malal waterfalls. In this place there is a mountain refuge, campsite and restaurant where you can try Malargue traditional meals.
This area is a marine origin formation and it is suitable to practice adventures activities as trek, climbing, cavalcade and mountain bike among others. We walk around there for an hour to see fossils (bivalve, twisted shells: ammonites) and get to the waterfalls. Then we climb the mountain to reach the top to look at a lovely view.
On our return we visit the Malal-hue fort and its history.
---

Llancanelo Lagoon -

Cari - Lauquen -

Malal-Hué Fort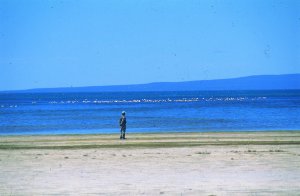 For photographic lovers, who enjoy looking at birds: this tour includes an important fauna reserve with a variety of swams, flamingos, gallaretas, garzas, ducks, teros among others: Llancanelo Lagoon: a virgin and nature environment of great ecological value, recently incorporated to the Ramsar Convention as a one of world greatest humid place

In the morning we leave from Malargüe city/ Las Lenas ski center to the Llancanelo lagoon. In our way to this place, we start seeing the transition from mountain scenery to flat and volcanic ones. First we get the beautiful Cari-lauquen lagoon, which has a variety of birds and fauna. Then we get and climb the Trapal. Mountain to reach the top and look at the whole Llancanelo lagoon In the evening we arrive at the shore of the Llancanelo lagoon. There we see the various speciess of white swans, black neck swans, teros, guanacoes, flamingos among others. We return on the same way and visit the Malal-hue fort.
---

Pasarela -

Fortunoso -

Pampas Negras -

Payen Liso -

Payun Matrú and much more
Dormant volcanoes, streams of lava, slags, indigenous flora and fauna, cave paintings, inhospitable scenery, very interesting to visit and worth seeing. The Payunia's volcanoes: a desert and alien sceneriesl, where the power of wide spread lava, originate basaltic formations, which conform a moon scenery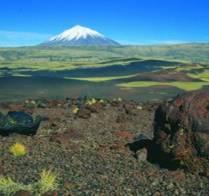 Early in the morning we leave from Malargue city/ Las Lenas ski center to Payunia reserve. In our way we visit La Pasarela: It is a place where the Rio Grande (river) try to fit on a deep crack of volcanic rock (it is really impressive to see this enormous and deep hole and heard its noise). From then we start appreciating the volcanic activity like streams of lava, heap of slags and volcanic cones. After going through the route for an hour, we cross one of the Mendoza richest oil wells: Palauco and Fortunoso. From then we start looking at the most spectacular scenaries you can imagine: Pampas Negras (the black pampas), La Herradura, (The horseshoe) Los Morados (The purple mountain), Las Bombas, (The bombs), and so on.
As a general rule we include the Kingdom of Birds tour in Payunia's Volcanoes tour (because is on its way)
Payunia's Volcanoes + Kingdom of Birds (2 excursions in 1)
---
Valleys and legends: the most picturesque scenery of Los Andes' range of mountains: Valle Hermoso (The beautiful valley), Valle Las Lenas (Las Lenas valley), Valle Los Molles (Los Molles valley), Pozo de Las Animas (Souls' wells), Laguna Niña Encantada (Enchanted girl's lagoon).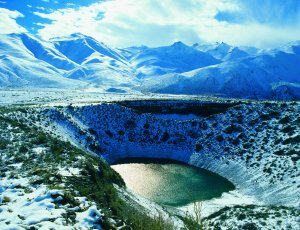 In the morning we leave from Malargue city/ Las Lenas ski center to get the beautiful Valle Hermoso, with its deep streams, living the experience of going as far as Los Andes' heart. There we will have lunch and then return to Las Lenas valley to stay for a short time to know this wonderful ski center. Then, we leave Las Lenas ski center to get "Pozos de las Animas" (Souls' wells): a geomorphologic singularity is consisting of two deep holes that have crystal clear sweet water.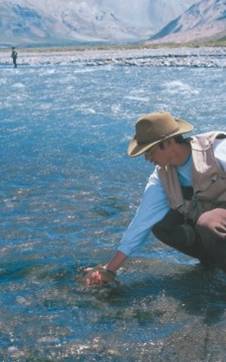 After leaving this place we get the Laguna de La Niña Encantada (Enchanted gir's lagoon) who receive us with its beauty and the mystery of its legends. The next place to visit is Valle Los Molles (Los Molles valley). There we will know the oldest hotel and its sulphurous thermal springs with excellent therapeutic properties.
---
The Nihuil pond, Atuel Canon, Valle Grande pond, Atuel river, San Rafael City, San Rafael's wine cellar
Early in the morning we leave from Malargue city/ Las Lenas ski center to the Embalse El Nihuil (The Nihuil Pond). There we descend to the atuel canon, where we appreciate the three most important hydroelectric power station of Mendoza and admire, along the canon, artistic sculpture carved by wind and water erosion. After that we reach the Embalse Valle Grande (Valle Grande Pond). After going round a various natural attractions and the cultural park Hunuc-huar, we arrive to San Rafael City. There we visit a San Rafael's wine cellar to taste and buy different kind of fine wine.
Price per person:
---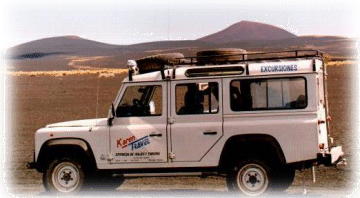 All the excursion and expeditions are made in a four wheel drive car: Land Rover Defender or Ford Transit (15 passengers) equipped with radio, heating, reclining seats and all the documents.k

Ir al inicio
---